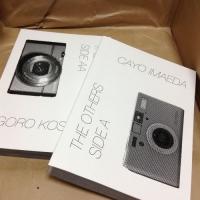 GORO KOSAKA / CAYO IMAEDA
"the others" -BOOK-
GORO KOSAKA
/
CAYO IMAEDA
TITLE :the others
LABEL :- (JPN)
GENRE :
[JAPANESE]
[OY STREET]
[RAP]
[GOODS]
8/27〜09/04に、福岡大名のSQUASHにて行われ、10/15〜11/15から沖縄は那覇にある、波の上ミュージックで行われた写真展の際に作成された写真集。
今回の展示は、CDジャケットや、印刷物などに使用されたことがあり、世間に発表された写真たちと、ただただ遊びの時間を共有していたから残された写真の2部構成になっている。この本は、後者の写真の役割を担っており、福岡・東京を拠点にしているそれぞれの作家の、周りの環境が写された内容になっている。本の文中にもある通り、"よく言えば、制作や活動の背景達"が集められている。両A面使用となっており、左から開くとcayo imaedaのページが始まり、右から開くとgoro kosakaのページが始まり、真ん中で内容が分割される仕様になっている。
B6サイズ/400ページ/白黒印刷/第2版
---------------------------------------------------------------------------
路上や生活の描写に長けている彼らには、面白いこと無いかなぁ。と、ふらふら街に繰り出しては撮影を繰り返す私達と、何処かしら似ているような気がしていて、勝手にシンパシ―を感じている。そんなこともあって、時間や場所を共有させてもらう事も多く、結果的に、大量の記念写真が積み上がっていく。その時なんでもないものでも、自動的に記念になっていく…。時間は良くも悪くも無情だ。この本に収録されている写真達は何かの為のものではない、何でもないものの集合体。彼らのオーディエンスが、普段見ることの出来にくいもう一方の光景。よく言えば、制作や活動の背景達になっている。こんな事言うのもなんだか気恥ずかしいが、正に、毎日がスペシャル。なのである。マスタ ーピースは それらの頂点にて、いつも煌々と輝いている。
小阪 吾郎
As capable portrayers of the street and life in general, I figured that there must be times when they go out to unknowingly find inspiration for their material in a random search for fun or whatever else. I've developed a certain sympathy for them as I feel there are similarities between what they do and my habit of operating a camera. As a result, I find myself sharing space with them quite often. Over time I've amassed a substantial catalog of moments regardless of their significance. Be it good or bad, time is aloof. The photographs in this particular collection of moments are similar in that they do not intend to be something. It is a side of them that their audience rarely sees. With a little embelishment, the moments shared henceforth are the scenery and foundations to their craft and works. It makes me flush to say this but... every day is special. Among them at the apex of these everydays, masterpieces stay lit with a great radiance.
英訳:Old Young Guy
GORO KOSAKA
1983年東京都新宿区百人町生まれ
下北沢SKARFACEに所属していた際の、遊び場で出会った光景や人々を撮影するところから始まる。ライブハウスにて出会った、作家   佐々木睦に影響を受け写真を意識する。夜の写真学校17期。
主な展示: うすい記憶@PLACE M 2011(新宿 東京) pop up exhibition in AVALANCHE 2(SUMMIT)@UNIT 2012(代官山 東京) ニッチ@M2 Gallery 2013(新宿 東京) pop up exhibition in REFUGEE MARKET@UNIT 2013(代官山 東京) pop up exhibition in REFUGEE MARKET@Stardustラウンジ3F 2013(下北沢 東京) cayo imaeda x goro kosaka photo exhibition@SQUASH 2016(大名 福岡)
instagram account: 56kosaka
-------------------------------------------------------------------------------------
CAYO IMAEDA
福岡在住のPhotographer。
2009年頃からカメラを手に取るようになり、写真を通して視えるその人間の中身、景色の表情を引き出せる事に魅力を感じている。
首を縦に振れるセンスにB-BOYからの信頼も厚く、親不孝通りを中心としたPARTYやARTISTの瞬間を収めたフィルムの数々は心を掴んで離さない。CLUB BASEの元スタッフであり、HIP HOP DJとしての顔も持つ。(DJ KAYO)
photobook「ROUTE B」
instagram account: cayoimaeda
FORMAT : BOOK
CATNO. : -
RELEASE : 2016/12
DATE : 2016/12/22