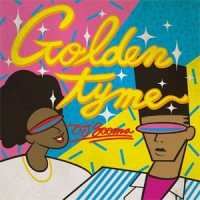 DJ SOOMA
"GOLDEN TYME" -MIX CD-
DJ SOOMA
TITLE :GOLDEN TYME
LABEL
:闇雲PROJECT
 (JPN)
GENRE :
[JAPANESE]
[RAP]
[MIX CD]
DJ SOOMA、クラシカルなMIX CD!!
自身の未発表"THE STOCK"リリースも記憶に新しい中、原点回帰とも言えるNEW SCHOOL MIXをドロップ!"LCMC'Z & DJ AKAKABE/準備はO.K?"で幕開け、80年後半〜90年前半のHIPHOPでセレクトされた"GOLDEN TYME"、日々のDJ PLAYともリンクするようなLIVE感あふれるMIXスタイルと、DJ SOOMAの選眼によりフレッシュにパッケージ!
01.準備はO.K?/LCMC'Z & DJ AKAKABE
02.NEW GENERATION/THE CLASSICAL TWO
03.WAKE UP, WAKE UP!/MS. MELODIE
04.CALL ME D-NICE/D-NICE
05.ERIC B. IS PRESIDENT/ERIC B. & RAKIM
06.DON'T BELIEVE THE HYPE/PUBLIC ENEMY
07.MAKE ROOM/THA ALKAHOLIKS
08.HAND ON THE PUMP/CYPRESS HILL
09.ALL SHE WANTED/KNUCKLEHEDZ
10.THEY WANT EFX/DAS EFX
11.IT'S A BOY/SLICK RICK
12.DANCE WITH THE DEVIL/BIG DADDY KANE
13.HIP HOP ROUGHNECK/MC SHAN
14.THE RETURN OF THE HORY ONE/YZ
15.CHECK IT OUT/GRAND PUBA
16.10% DIS/MC LYTE
17.HIP HOP RULES/BOOGIE DOWN PRODUCTIONS
18.THE RHYTHM/BAS BLASTA
19.YES YOU MAY/LORD FINESSE
20.ILL STREET BLUES/KOOL G RAP & DJ POLO
21.MR. MICROPHONE/THE MICROPHONE PRINCE
22.LEGION GROOVE/THE LEGION
PROFILE
大阪DOPE SIDEの一角を担うHIP HOP CREW[INSIDE WORKERS]のキーマンであり、[梟の森]出身のDOPE SELECTA!!
1997年HIP HOP DJとしてキャリアをスタートして以来、その独自のセンス、
保ち続けるグルーヴ、折り紙付きのスキルを武器に、これまで様々なイヴェントに出演。
またMIX TAPE、MIX CDなども絶やさずリリースしており、2006年には、自身名義の1st. FULL ALBUM[攻撃重視]を発表。2014年、未発表曲集[THE STOCK]発表。
現場、音源でHIP HOP LOVERを次から次へと巻き込んでいくスタイルでテリトリー拡大中!!!!! 
FORMAT : CD-R
CATNO. : -
RELEASE : 2014
DATE : 2018/07/26