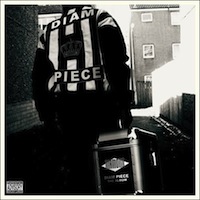 Diamond D
"The Diam Piece" -2LP-
Diamond D
TITLE :The Diam Piece
LABEL
:DYMOND MINE
 (US)
GENRE :
[RAP]
泣く子も黙るD.I.T.C.のレジェンダリー・プロデューサー/ラッパー、DIAMOND Dが放つ通算6枚目のソロアルバム!
Lord Finesseら色濃い面々と徒党を組んだ掘り師集団、Diggin' In The Cratesの一員としても、シーンから多大なプロップを集める巨匠Diamond Dが、総勢20名以上の手練れMC達を従え、6枚目のスタジオ・アルバムをドロップ!氏曰く「心から愛しリスペクトするMC達を、自分の思いに忠実に選んだ」というゲスト陣は、古くから彼と交わるビッグな面々がそろい踏み。勿論、全曲(ボーナス除く)のプロデュースはDiamond自身によるもの。2014年下半期を飾る圧巻の超大作!!
A1. Rap Life feat. Pharoahe Monch
A2. Where's The Love feat. Talib Kweli, Elzhi & Skyzoo
A3. It's Nothing feat. Fat Joe, Chi Ali & Freddie Foxxx
A4. Only Way 2 Go feat. Pete Rock
A5. Hard Days feat. The Pharcyde
B1. I Ain't The One To Fuc Wit feat. Scram Jones
B2. Pump Ya Brakes feat. Rapsody, Boog Brown & Stacy Epps
B3. Take Em Off Da Map feat. Black Rob
B4. We Are The People Of The World feat. Kurput & Tha Alkaholiks
B5. Jose Feliciano
C1. Handz Up feat. Hi-Tek
C2. Pain feat. A.G.& Chino XL
C3. Vanity feat. Nottz
C4. It's Magic feat. The Stepbrothers
C5. The Game feat. Grand Daddy I.U.
D1. Let The Music Talk feat. Kev Brown
D2. Superman (Bonus Track)
FORMAT : 2LP
CATNO. : DMR1969
RELEASE : 2015/01
DATE : 2019/06/28