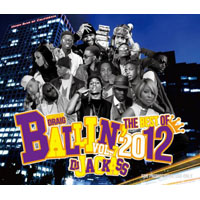 DJ JACKASS
"BALLIN' VOL.7 (THE BEST OF 2012)" -MIX CD-
DJ JACKASS
TITLE :BALLIN' VOL.7 (THE BEST OF 2012)
LABEL
:UNCHAINZ MUSIC
 (JPN)
GENRE :
[MIX CD]
福岡を中心に九州各地で活動中のDJ JACKASSによる最新MIXが到着!!!! 2012年のBEST HIT SONGを、MEGAMIXを含め50曲収録したフル・ボリュームな1枚!!!
INTROにはDRAIGがSHOUTで援護射撃!! あっさりMIX、こってり二枚使い、ボリュームたっぷりごちゃ混ぜで入ってます!! これが究極にアガれる決定盤!!
1.Intro Megamix & Freestyle / Draig & DJ Jackass
2.Back 2 Life / Sean Kingston Feat. T.I.
3.Aww Yea / Travis Porter
4.Heal The World / Mannie Fresh
5.Throw It Away / Slaughterhouse Feat. Swizz Beatz
6.New Day / 50 Cent Feat. Dr. Dre & Alicia Keys
7.Girl On Fire / Alicia Keys Feat. Nicki Minaj
8.Dope Bitch (Remix) / Fabolous Feat. The Dream
9.Reach Out / Nas Feat. Mary J. Blige
10.You Are / Yung Berg & Mia Rey Feat. Raekwon
11.Baby Girl / N.O.R.E. Feat. Cassie
12.2 Reasons / Trey Songz Feat. T.I.
13.Strip / Chris Brown Feat. Kevin Mccall
14.Everyday People / Mary J. Blige
15.Shot Caller (NYC Remix) / French Montana Feat. Jadakiss, Styles P
16.Brooklyn Knightz / Rampage
17.Just Like That / KRS-One
18.Accidental Murderers / Nas Feat. Rick Ross
19.3 Kings / Rick Ross Feat. Jay-Z & Dr. Dre
20.Clique / Kanye West Feat. Jay-Z & Big Sean
21.So NY / Fabolous
22.Castle In Brooklyn / David Banner Feat. Maino
23.Hot Thing / Usher Feat. A$AP Rocky
24.Did It For My Dawg / DJ Khaled Feat. Rick Ross, French Montana & Jadakiss
25.Pop That / French Montana Feat. Rick Ross, Drake & Lil Wayne
26.Same Damn Time (Remix) / Future Feat. Diddy & Ludacris
27.Mobbin / Maino Feat. Waka Flocka
28.Rooster In My Rari / Waka Flocka
29.I Don't See 'Em / DJ Khaled Feat. Birdman, Ace Hood & 2 Chainz
30.Wish You Would DJ Khaled Feat. Kanye West, Rick Ross
31.2012 Megamix 2 / DJ Jackass
32.In This Bitch / DJ Christion Feat. Ace Hood, Fat Joe & Famous Kid Brick
33.Do What I Gotta Do / Big Sean Feat. Tyga
34.Fuckin Problem / A$AP Rocky Feat. Drake, 2 Chainz & Kendrick Lamar
35.2012 Megamix 3 / DJ Jackass
36.I Cry / Flo Rida
37.Good Time / Owl City & Carly Rae Jepsen
38.2012 Megamix 4 / DJ Jackass
39.Don't Stop The Party / Pitbull
40.Gimme Dat Ass / Sidney Samson Feat. Pitbull & Akon
41.Play Hard / David Guetta Feat. Ne-Yo & Akon
42.Let Me Love You (Pulse Remix) / Ne-Yo
43.2012 Megamix 5 / DJ Jackass
44.Payphone / Maroon 5 Feat. Wiz Khalifa
45.Adorn (Original & Remix) / Miguel Feat. Wiz Khalifa & Diddy
46.Why / Mary J. Blige Feat. Rick Ross
47.Enough Of No Love / Keyshia Cole Feat. Lil Wayne
48.Triumphant (Get Em) / Mariah Carey Feat. Rick Ross & Meek Mill
49.Celebration / Game Feat. Chris Brown, Tyga, Wiz Khalifa & Lil Wayne
50.To The World / Kanye West Feat. R. Kelly
FORMAT : CD
CATNO. : -
DATE : 2013/08/15